DOG BATH SERVICES IN BOCA RATON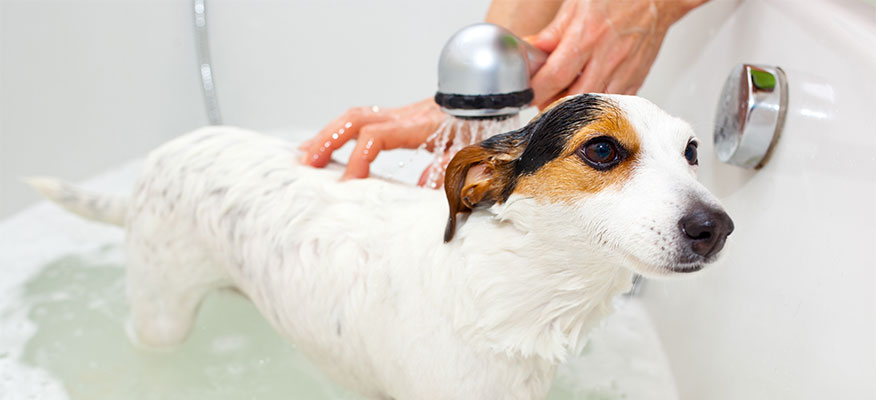 At Love My Puppy, we offer gentle dog grooming services performed by our dog-loving professionals. Our full suite of grooming services includes dog baths, mini-grooms, full-grooms, teeth brushing, nail clipping, and dematting for your beloved four-legged companions. On this page, you can find out all about our professional dog bath service at Love My Puppy in particular and how it can benefit your darling pup.
UNDERSTANDING DOG BATH SERVICES
Our dog bath service is ideal for pups who only require a regular wash to keep their fur smooth, silky-soft, and healthy, as well as keep their ears clean. Our professional dog baths include both a bath and a blow dry, plus a full brushing and comb out afterward. Our dog baths will involve a double shampoo washing and conditioner application plus a rinse.
We will also have your pup's ears cleaned, and plucked if appropriate, and then have their anal glands expressed. When your dog is all clean and dry, we will spray them with some lovely, fragrant pet-safe cologne and give them a cute little bandana or bowtie to finish it all off!
Please note that the prices of our professional dog bath services will vary based on your dog's breed, unique coat condition, and duration of service necessary. These will be confirmed during your dog's in-person physical assessment at our grooming studio.
BENEFITS OF DOG BATH SERVICES
Your dog's skin and coat, just like ours, will progressively accumulate dirt and grease each day. Putting your pup on a regular bathing routine will guarantee that they are keeping a healthy coat, and this protects your home from excessive dog dander. Regular dog baths also help to minimize any fur and allergens flying around in the air, making your dog less prone to aggravating your allergies. Of course, it also assists you in keeping your house clean and tidy.
Additionally, excessive bacteria accumulation might irritate your dog's skin, resulting in red patches of rashes or painful sores. Our professional dog baths will assist with eradicating grime and odors, leaving your dog's fur smelling great and their skin healthy and clean. Our dog baths are accompanied by a thorough comb-out and brushing, which aids in the prevention of skin inflammation, mats, and discomfort.
HOW OUR DOG-LOVING PROFESSIONALS CAN HELP
At Love My Puppy, our dog-loving professionals can help you get your pup glistening, clean, and happy with our professional dog washing baths, no matter how dirty your little pup got after rolling in the mud all day, and no matter how frequently they need them.
For your and your pup's comfort, we also offer a dedicated parking area for all our grooming customers as a dropoff and pickup point for your dogs. You'll be able to see the gorgeous before-and-after as your pup comes out sparkling clean and tails-a-wagging!
WHY CHOOSE DOG BATH SERVICES FROM LOVE MY PUPPY?
At Love My Puppy, we take care to always groom your pup to its unique breed standards or your personal choices. Your precious pup's grooming experience here will be cage-free and anxiety-free.
Call us at 561-368-6767 today to book an appointment for our dog bath services.