DOG DEMATTING SERVICES IN BOCA RATON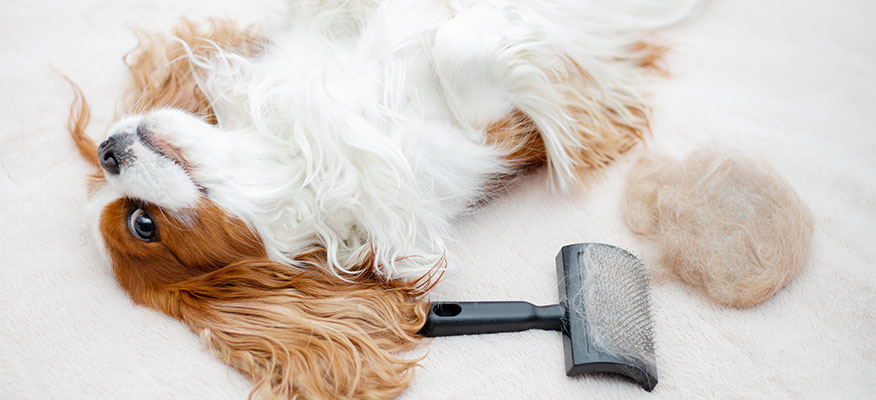 At Love My Puppy, we provide a comprehensive range of specialist grooming services for your precious doggie buddies, including dematting, dog baths, full grooms, mini-grooms, teeth brushing, and nail cutting. You'll be able to discover everything there is to know about our dog dematting service on this webpage, as well as how we can assist your beloved pet.
UNDERSTANDING DOG DEMATTING SERVICES
At Love My Puppy, we have a crew of seasoned and certified specialists to handle your pup's matted fur, including fur that is severely knotted. Throughout the dematting procedure, we will carefully examine every section of your pup's fur to look for knots and mats.
To begin, we'll snip and brush out the smaller matted areas. To tackle the serious mats, we will delicately and slowly demat them in a pain-free manner that assures your dog's comfort. Any tangled, overgrown, and dead furs are gently removed. Your dog will emerge from the procedure with a fresh, radiant coat.
BENEFITS OF DOG DEMATTING SERVICES
Dematting goes well beyond a simple grooming duty. It provides numerous health advantages for your pup. Although your dog's fur is of course essential, not every one of the hairs on their coats is beneficial. Many are dead hairs that are not useful to your pup anymore, adding extra weight and discomfort, and can even be damaging to their health.
Dog hairs are also a prime breeding ground for a variety of parasites, notably fleas and ticks. These are harmful bugs capable of spreading illnesses and infections. Likewise, dog hairs can also act as entry points for your pup to pick up a variety of different diseases and ailments. These things all combine to significantly damage your pup's immune system and bring about serious ramifications. Therefore, dematting your pup minimizes the volume of fur on which these harmful microorganisms can grow.
Furthermore, some skin irregularities and disorders could well be buried under the abundance of fur on your dog's body. There could be skin inflammations, itchy patches, or painful rashes that could all be symptomatic of hidden medical conditions. Yet because of the volume of fur, you may not be able to easily notice them. Frequent dematting will allow you to detect and correct all of these issues as early as necessary.
HOW OUR DOG-LOVING PROFESSIONALS CAN HELP
Dematting is widely considered to be an unpleasant process for dogs. However, we've been doing this a long time and have a lot of experience with this process, thus we are skilled in the best ways to perform effective dematting without hurting your pup. We also use specialized dematting tools and dematting sprays to ensure we don't tug at or nick your dog's skin.
WHY CHOOSE DOG DEMATTING SERVICES FROM LOVE MY PUPPY?
Our expert dog dematting services at Love My Puppy can assist you if the tangles and matting on your pooches have accumulated to a point that you are unable to manage them. We can assure you that their no-cage dematting experience here will be pain-free, and even better, your pooch may explore our studio and play around with us the entire day until their allotted dematting appointment time!
Call us at 561-368-6767 today to book an appointment for our dog dematting services.