LITE SERVICES DOG GROOMING PACKAGES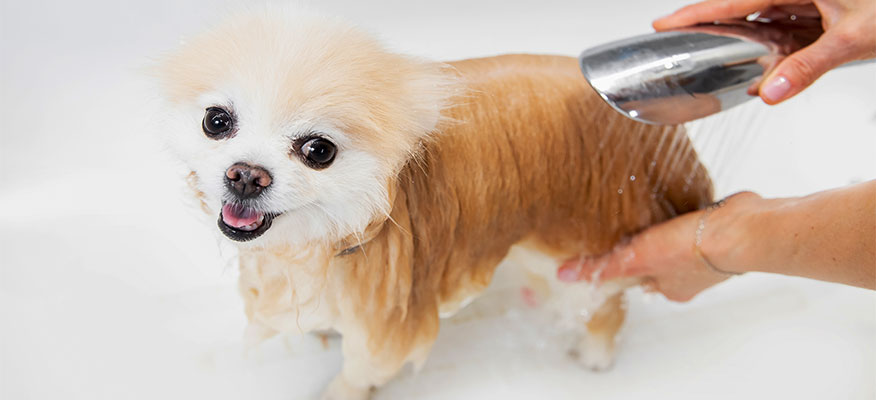 Love My Puppy provides gentle dog grooming services that are warmly delivered by dog-loving experts. Here, you can learn more about our professional mini groom service, which is our dog lite groom, and how our grooming services at Love My Puppy can benefit your adorable pooch.
UNDERSTANDING DOG MINI GROOM SERVICES
Our professional dog mini groom service includes bathing as well as polishing up your pup's paws, face, ears, tail, and sanitary regions. Our mini groom service is ideal for dogs who need a wash as well as a light trim of their smaller areas. During our mini groom session, your dog's body hair will not be cut in any way.
Our dog mini grooming service consists of a wash and blow-dry, as well as a thorough brushing and combing. It will also include a double shampooing and conditioner treatment. Additionally, we will clean out and, if necessary, pluck your dog's ear hairs before expressing their anal glands. Afterward, we will give your dog a trim around their eyes and face, shave their paw pads, scissor their feet's fur, and a sanitary trim to finish off. Once your dog is thoroughly washed and dried, we will spritz them with a delightful, aromatic dog-safe cologne and top it all off with an adorable little scarf or necktie for him/her!
Please be aware that the fees for our professional dog mini groom service will differ based on your pup's breed type, specific coat conditions, and the amount of grooming time needed. These will be evaluated at our grooming facility when your pup comes in for a physical inspection.
BENEFITS OF DOG MINI GROOM SERVICES
Having your dog professionally groomed not just saves you lots of time and effort but it's also good for your pup. Expert groomers are equipped with special shampoos and treatments for your pup, who may be struggling with skin problems, ticks, fleas, or any other discomforts.
They also possess the appropriate tools and knowledge to guarantee that your dog is handled in the safest possible manner. They understand how to deal with dogs' medical conditions, anxiety, and hostility. Importantly, regular visits to skilled groomers ensure that prevalent health issues like skin diseases, ear infections, or hidden tumors can be detected early and treated.
HOW OUR DOG-LOVING PROFESSIONALS CAN HELP
Our dog-loving specialists at Love My Puppy can help you get your pup looking fresh, sparkling, and happy with our detailed dog mini grooming, regardless of how many overgrown hairs they have sticking out everywhere or how muddy your little pooch got after digging in the soil all day! What's more, for your convenience and peace of mind, there is a viewing glass you can use to watch them throughout the grooming process.
WHY CHOOSE DOG MINI GROOM SERVICES FROM LOVE MY PUPPY?
At Love My Puppy, we always put in the extra effort to groom your dog according to your personal tastes or its specific breed norms. Your beloved pooch will have a stress-free mini groom experience here and will never be caged throughout the process. Furthermore, they are welcome to dash about here all day long until their scheduled grooming time.
Call us at 561-368-6767 today to book an appointment for our dog mini groom services.